ASTM calibration weights set (1 kg-5 kg) cylindrical shape
Product Detail
Product Tags
Detail Product Description
All weights are made of premium stainless steel to make them corrosion resistant.
Monobloc weights are specially designed for long term stability, and weights with an adjusting cavity provide best value for money.
Electrolytic polishing ensures glossy surfaces for anti adhesion effects.
ASTM weights 1 kg -5kg sets are supplied in attractive, durable, high quality, patented aluminium box with protective polyethylene foam and
ASTM weights cylindrical shape are adjusted to meet class 0, class 1, class 2, class 3, class 4, class 5, class 6, class 7.
Aluminium box designed in an excellent protective way with bumpers by which the weights will be protected in a firm way.
Nominal Value:50g-50kg
Standard: ASTM E617-13
Susceptibility: 0.01- 0.005
Calibration certificate: yes
Box : Aluminium box (included)
Design : cylindrical
ASTM Class: class 0, class 1, class 2 class 3, class 4, class 5, class 6, class 7.
Material: high class stainless steel, plated steel, brass.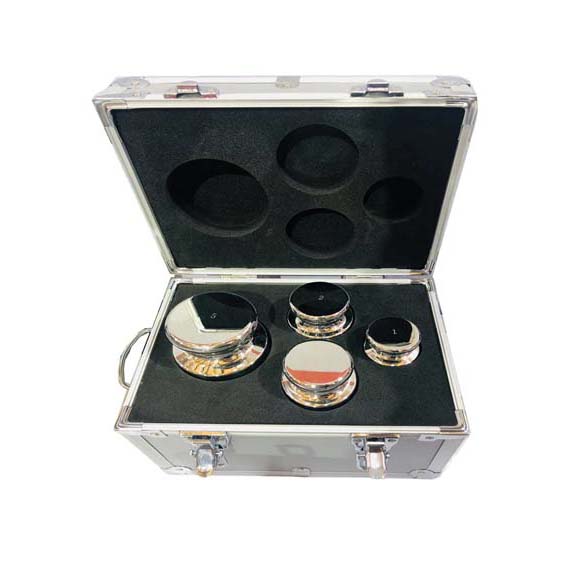 For high class SS it goes though mirroring and mechanical polishing
And for chrome plated or titanium plated after shaping it we elcetrically coat it with chrome
ASTM weights can be used as reference standard in calibrating other weights and appropriate for calibrating high-precision analytical and high-precision toploading balances, laboratory students, and rough industrial weighing.
With more than ten years of experience combined with special skill acquired through years of weight polishing guarantee the consistent high quality for all customer demands.
ASTM weights are designed to resist dust offering a long term stability.
Denomination metric

Tolerance
Class 0
Class 1
Class 2
Class 3
Class 4
Class 5
Class 6
Class 7

5 kg

6.0

12

25

50

100

250

500mg

1.4g

3 kg

3.8

7.5

15

30

60

150

300

1.0g

2 kg

2.5

5.0

10

20

40

100

200

750

1 kg

1.3

2.5

5.0

10

20

50

100

470
Yantai Jiaijia Instrument Co., Ltd. is an enterprise that emphasizes on continuous development of the product and imporvement on the quality.
With a stable and a reliable product quality and good business reputation, we have won the trust of our customers, and we have followed the market development trends  to meet the needs of our customers.
---
---
Write your message here and send it to us