Moisture Analyzer
Product Detail
Product Tags
Instrument calibration steps:
First assemble the moisture analyzer and connect the power supply to turn on power switch
1. Long press "TAL" on VM-5S and keep it until it displays "—cal 100--"
For other models, directly click the "Calibration" button on the interface to display cal 100
2. After placing the 100g weight, click the calibration function key
3. Automatic calibration of the instrument
4. "100.000" is displayed when the calibration is over, and the single-point calibration is completed
Please refer to the instruction manual for linear calibration steps
Sample determination steps:
1. Cover the heating cover after sampling
2. Set the heating temperature in advance, such as "105 degrees Celsius"
3. After the value is stable, press the "Start" button to start the measurement
4. At the end of the measurement, the instrument displays the measurement result
The above measurement steps are the automatic shutdown mode test steps. The instrument can be shut down at a fixed time or set other heating temperatures. Welcome to contact us for the program for the heating program!
1. It can be used without installation and training, easy and fast for using after unpacked.
2. The operation is simple, one-key operation, automatic shutdown, quickly get the moisture and other values
3. The double-layer glass design of the heating chamber protects the halogen lamp from damage caused by external forces in all directions, and the internal circulation effect formed by the double-layer glass improves the temperature control performance of the moisture meter, which is particularly evident in the moisture determination of volatile items outstanding
4. The visualized transparent front window design, beautiful and generous, can observe the changes of moisture in real time during the working process of the instrument
5. Multiple data display methods: moisture value, sample initial value, sample final value, measurement time, temperature initial value, temperature final value
6. 100 kinds of user-defined measurement methods, convenient and quick to store and recall, no need to set each time
7. Imported materials and imported parts, stable, accurate and long service life of the instrument are our eternal pursuit
8. The data processing CPU adopts imported chips from the United States to ensure the stability and accuracy of the instrument calculation
9. The temperature control and sensor module are newly upgraded, heating up faster, and temperature control is even
10. Brand-new appearance design, imported raw materials and special formula integrated into one body, real high temperature resistance
11. Unique wind-proof design and anti-electromagnetic radiation design to protect the stability and accuracy of the weighing system of the instrument
12. RS232 serial port, can expand computer communication, printer communication, PLC and network management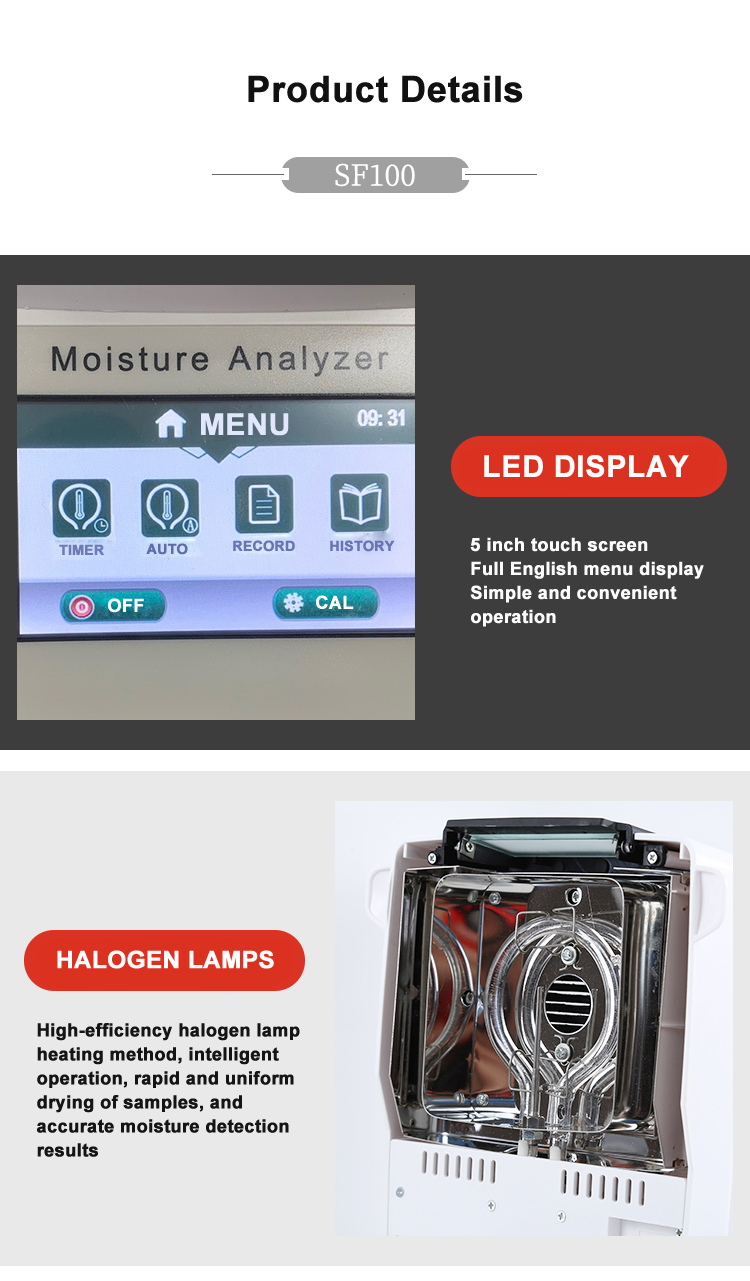 ---
Next:
OTC Crane Scale
---
Write your message here and send it to us